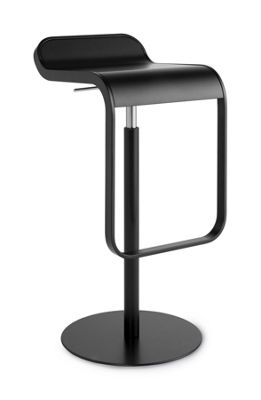 Named Product of the Year at the
FX International Interior Design Awards
in the year of its release, the often copied LEM Piston Stool reveals a rigorous and original rethinking of the form and function of seating. The sculptural seat not only swivels but also adjusts easily from counter height to bar height with a lever that activates a gas cylinder. While utility strongly determines its form, this unique stool also has a visual lightness that creates the illusion of freedom from gravity. Made in Italy.
It's seat height works for 36" to 42" high counters. Comes in black or white. DWR $750 (June 2014).
Dimensions: H 29"–34" W 15" D 17" Seat H 26"–31"